Emerging from the impact of the COVID-19 pandemic has triggered a need to review the overall monetisation strategy for many online publishers — especially for news media that is busier than ever. Despite this surge in business, it is important not to lose sight of the need to design a clear, effective, holistic digital advertising strategy.
A key challenge is that newspaper ad spending is continuing on a downward trajectory. Although digital newspaper advertising will dictate the majority share of total newspaper ad spend by 2023, digital's growth does not seem to be enough to make up for the loss in print advertising.
When focusing on a print strategy, INMA's report The Power and Promise of Print Advertising is a good place to start. It makes sense to strategically tap into Internet advertising spend (US$153 billion by 2024) as well as through newspapers making money via increased distribution. Developing a holistic strategy that combines print with digital is the most efficient way forward.
According to PwC, more news consumers are opting for free news aggregator Web sites like Google News and Apple News as well as social media platforms such as Facebook.
The holistic approach
What if the same print ads could be ultised for digital ads and vice versa? What is the value proposition of that approach? Could this be a viable option?
In the past, print and digital were treated differently. In print there are formats like half-page, full-page, and section fills. In the digital space, the old IAB 728×90, 970×250, and 300×250 just are not aligned. Wouldn't things be simplified if they were aligned?
If there is a single optimsed workflow that could surface the key results, this could be the foundation of a combined print and digital strategy. By combining print and digital, the key value propositions (high-impact big formats, higher frequency of brand quality, and higher viewability and load speed) can be recognised.
High-impact formats: We have found that if you take print ad format footprints, many can be converted to digital formats that offer high-impact new formats on the page. For example, a quarter-page ad can be translated into a large 4×1 or 3×1 ad at the top of the site.
Distribution: Advertisers get offer consistent, cross-platform access to consumers via multiple channels. They can showcase the same designs, colours, and brand impact through frequency.
Uncompromising: If there is a combined approach to print and digital, digital must be as good as it can be. High viewability and load speed are critical.
Single optimised workflow
When the print-digital workflow is sequential, it can take as much as four days to produce both with double the design time. This needs to be streamlined into a single optimised workflow.
Design efficiencies leverage the design of the quarter-page print format, which can be converted to a 1920×520 size. This can be used as a footprint for the top billboard (4×1) digital slot and as the basis for other layouts that fit tablet and mobile slots. There is also a system efficiency when the same design account management purchasing flow is used to sell a print digital ad pack as a bundle.
The process workflow is streamlined because the print design output file is ingested automatically into a digital design processing system, which creates a single creative that works as a digital performance-based, local ad. The proofing process is combined with the sale of the efficient back-and-forth throughout. What took several hours before can be done with a faster turnaround time.
Finally, there is high-impact format optimisation via responsive ads. The same impact that print had in the past can be replicated with high recall and big beautiful formats.
Case study: Media Daily News brings a print strategy to high-impact, digital-rich media
This case study from Media News Group highlights the opportunities in this area.
This included high-quality, edge-to-edge, high-performance digital campaigns that evolved from print ads and replaced all user interruptive experiences. This unit can be frequency-capped to open and close gracefully for the best advertising opportunity for local small- and medium-sized businesses while bringing users value.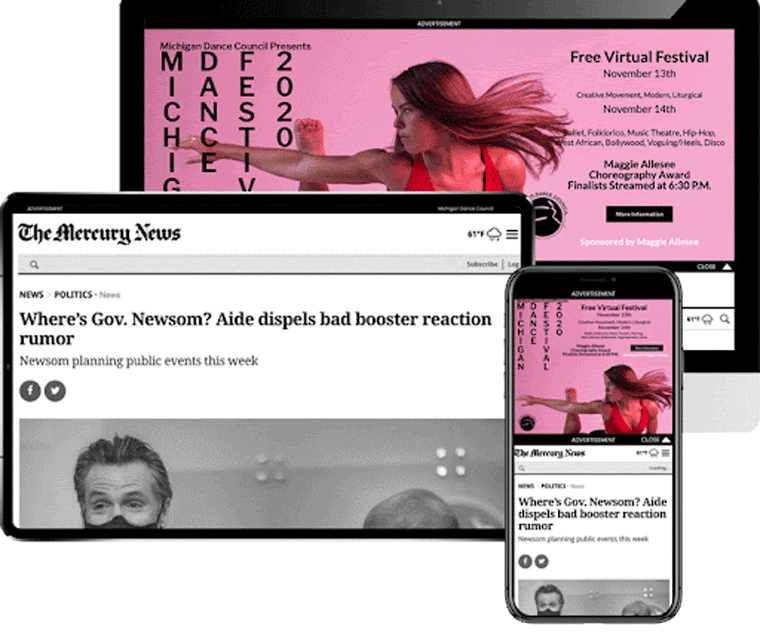 This achieved a 100% viewable top masthead that achieved more than 100 times industry standard engagement rates. Additionally, the click-through rate was 50 times the industry rate, the element click was 122 times the industry rate, and engagement was 130 times more than the industry standard.
"I am super excited with this approach," said Annette Cortianna-Clark, director of advertising operations at Media News Group. "Between the integrated proofing and templates, we have more efficient and simplified ad sales, improved ordering, better creative, and shorter production time."
In summary
When considering this approach, there are three strategic areas of consideration:
Creative templates and proofing readiness with a flexible system for joint ordering and billing.
A production partner that can produce print and digital together.
The right creative ad tech partner for the combined asset delivery.